The phone will ring today in the homes of a few men and their lives will be transformed in an instant. Their fates are already sealed as the ballots are in and all that awaits is the announcement from that little hamlet in Cooperstown New York as to whom will be joining the most elite group of honored athletes in America!
The National Baseball Hall of Fame in Cooperstown New York.
                        The Hall of Fame.
There are 34 men on the ballot vying for entry into these most hallowed of halls, 17 of them who appear on the ballot for the first time. And of those 17, three are expected to be in Cooperstown on July 26th as baseball's highest honor is bestowed upon them.
They are:
Randy Johnson,
Pedro Martinez and
John Smoltz.
The 14 other first timers are, Rich Aurilia, Aaron Boone, Tony Clark, Carlos DelGado, Jermaine Dye, Darin Erstad, Cliff Floyd, Nomar Garciaparra, Brian Giles, Tom Gordon, Eddie Guardado, Troy Percival, Jason Schmidt and Gary Sheffield.
Of those remaining 14, Gary Sheffield, I believe will receive the most votes but not near the 75% required for election. I think Rich Aurilia, Tony Clark, Darin Erstad, Brian Giles, Tom Gordon, Eddie Guardado and Jason Schmidt will appear for the only time as I do not see them garnering the 5% of the vote required to stay on the ballot.
The 17 candidates returning to the BBWAA ballot (with their 2014 election percentages) are: Craig Biggio (74.8%), Mike Piazza (62.2%), Jeff Bagwell (54.3%), Tim Raines (46.1%), Roger Clemens (35.4%), Barry Bonds (34.7%), Lee Smith (29.9%), Curt Schilling (29.2%), Edgar Martinez (25.2%), Alan Trammell (20.8%), Mike Mussina (20.3%), Jeff Kent (15.2%), Fred McGriff (11.7%), Mark McGwire (11.0%), Larry Walker (10.2%), Don Mattingly (8.2%) and Sammy Sosa (7.2%).
I believe Craig Biggio will make it this time after falling just two votes short last year! Imagine that! Two votes! Biggio tied Pie Traynor in 1947 and Nellie Fox in 1985 with the closest near miss. Traynor was elected the following year but Fox had to wait until 1997 when the Veterans Committee put him in.
I look for Mike Piazza (about 65% of the vote) and Jeff Bagwell (about 55% of the vote) to fall short again this year as the voters are still not quite sure about them; while I believe Sammy Sosa will fall of the ballot forever.
If I am correct, and these four get the call, it will be the first time since 1955 that the Baseball Writers association of America (BBWAA) will elect more than three candidates. They elected four in '55' and 1947. The record is five and that was the inaugural class of 1936.
Christy Mathewson, (top left), Babe Ruth, Honus Wagner, Walter Johnson and Ty Cobb were the first five inductees to the Hall of Fame in 1936.
It may come as a surprise to you that there has NEVER been a player elected unanimously to the Hall of Fame! That's right, not Babe Ruth, not Hank Aaron, not Willie Mays, not Walter Johnson, not Ty Cobb, not Ted Williams, not Joe DiMaggio, not Mickey Mantle, Not anyone! EVER!
And if I were to ask you to name the player who received the highest percentage of votes for induction you might mention one of the above guys.
You'd be wrong! Babe received 95.1% of the vote, Aaron 97.8%, Williams 93.7%, Mays 94.7%, DiMaggio 88.8% and Mantle 88.2%. Curious isn't it?
There have been 28 men of the 306 inducted who have received 90% or more of the vote with four of them from the five inaugural inductees. As inconceivable as it may seem, only 83.6% of the BBWAA in 1936 thought Walter Johnson and his 417 wins worthy of the Hall of Fame. But that's another story for another day.
There have been exactly five men who have received 98% of the vote. FIVE!
And here they are:
In fifth place, sweet swinging George Brett.
In 1999 George Brett received 488 of 497 votes from the BBWAA for a total of 98.18% of the vote. He didn't even receive the highest percentage that year!
Next up in fourth place, Tyrus Raymond Cobb. That's right, he of the .364 lifetime batting average, highest in the history of the game.
Cobb received 222 of 226 votes to lead the inaugural class of 1936. That accounted for 98.23% of the vote.
Next up with the third highest total is Baltimore's favorite, favorite son, Cal Ripken.
Ripken garnered 537 of 545 votes (98.53%) in 2007.
Second place belongs to Lynn Nolan Ryan; the man who hurled seven no-hitters and struck out over 5000 opponents, both accomplishments to likely never be repeated.
In 1999 Ryan received 491 of the 497 votes for 98.79% of the vote. He and George Brett walked through immortality's doors together. 
And now, could we have a drum roll please!
The man who tops the list
George Thomas Seaver also known as Tom Terrific!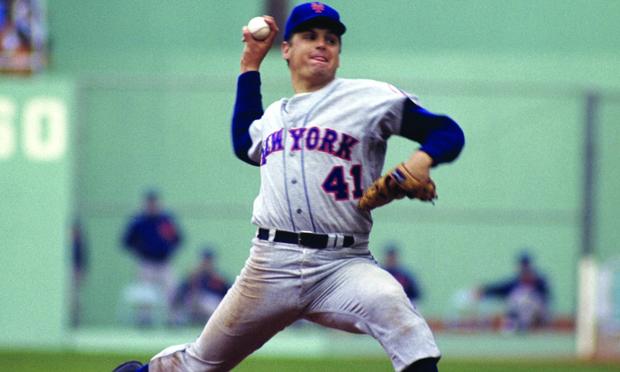 In 1992 425 of the 430 laureates of the baseball world found Tom Seaver worthy of entry. That accounted for 98.88% of the vote.
Nolan Ryan and Tom Seaver began their journey together as a part of the 1969 Miracle Mets, the Amazins. Today the two sit atop a list of all time greats deemed by the BBWAA the most worthy and in that capacity they will welcome new members into their fraternity. You can be sure that none of them will receive 100% of the vote but look for the names of Johnson and Martinez to give Ryan and Seaver a run.
The phone will ring in a few homes today, and the lives of a select few will be transformed. The phone will ring today and those select few will transition from retired Major League Baseball players to Hall of Famers. The phone will ring today and a select few will join the pantheon of baseball reducing those men to the little boys who still live within them; men who rise today with the anticipation of a child on Christmas Eve,
Ahhhh, baseball!
         And so it is on this day in Fenway Park history, January 6, 2015